A select number of Meeting Rooms at the American Underground in Durham are available as outside rentals for private meetings! To secure a date and time, please fill out the form below.
Alternatively, if you are interested in hosting an event that is open to the AU community, we can accommodate a select number of startup and/or tech-related events throughout the year. These are typically workshops, conferences, and/or meetups. For events, please utilize our Event Request Form to provide our team with more information!
The Dugout
The Dugout has AV capabilities and is equipped with a white board, polycom and flat screen TV. Though not *quite* as cool as the Durham Bulls dugout, it is still very cool.
Capacity: 8 people
$59/hour
The Vault
The Vault is equipped with a polycom, white board and flat panel TV. Unfortunately it does not come loaded with money. Sorry. We wish it did, too.
Capacity: 10 people
$59/hour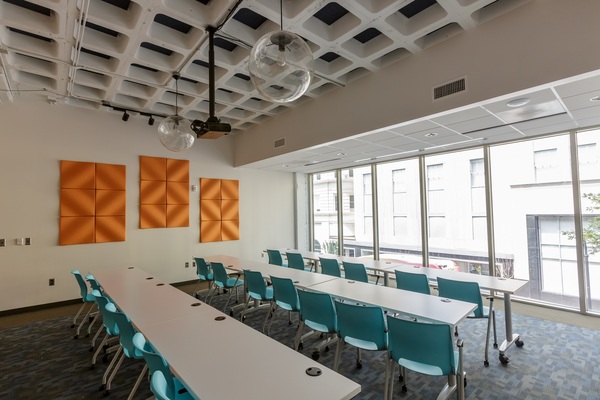 The Training Room
With moveable tables and chairs, The Training Room is designed for large group trainings and workshops. It's equipped with a large projector, AV capabilites and a white board.
Capacity: 25 people
$99/hour
The fishbowl
Right off the elevator when you land at American Underground, The Fishbowl is the perfect spot to meet guests. It's fully equipped with a flat panel TV, white board and polycom.
Capacity: 10 people
$59/hour
The Classroom
The Classroom @ATC is our biggest meeting space! With moveable chairs and tables, you can arrange the room however you'd like. It's equipped with a projector, two white boards and AV capabilities.
Capacity: 50 people
$149/hour